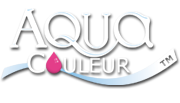 AQUAcouleur is a patented process of a temporary dye or colouring of water used in pools, spas, fountains and aquariums.

Thanks to its combination of technical performance and respect of the environment, people and in particular children, AQUAcouleur is able to offer a high quality range of colourings.

Diluted, AQUAcouleur does not stain. AQUAcouleur will neither change the quality, the equilibrium, nor the transparency of the water. Diluted AQUAcouleur will in no way damage skin or any kind of material. Neither will it have any negative consequences on pool equipment, whether it be the pool liner or the filtration pipes.
This coloured water presents no dangers to children bathing. Drinking this water will not damage your health. There is no possibility of poisoning through ingestion.