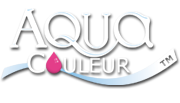 This coloured water presents no dangers to children bathing. Drinking this water will not damage your health. There is no possibility of poisoning through ingestionWe have studied several conditionings in response to individual needs.
Any of the AQUA colours can be mixed together and are suitable for all kinds of filtration.
We have created a range of 6 colours which will neither alter the quality nor the transparency of the water of your pool.
Our large packaging allows us to vary the concentration of our colourings to meet the specific size of your pool, eg 300m3, 5,000m3, 10,000m3...


Aquacouleur doesn't present any dangers to children bathing. The instructions for use on the back of the container will guide the user to colour easily.